We start our regular season tomorrow Friday September 7.   Open days will be Tuesday thru Sunday 9:00 to 5:30 – closed Mondays.
Ginger Gold, Gala and Macintosh will be available for picking.   Ginger Golds are the ripest apples, followed by the Galas (pick the reddest ones).    There are plenty of Macintosh – they will be on the tart side – our northern apples don't ripen well in the hot weather.  Fruit will be riper next weekend.
Early apple weekend customers picked almost all of the Zestars and Sansas.  Honeycrisp are ripening slowly – they will likely start after Sept 16 – I will keep you posted.
If the weather forecast is correct, it will be cooler this weekend.  There will be cider AND donuts on Saturday and Sunday.  New scales are working well for folks bringing their own bags.
Come see us !!
Galas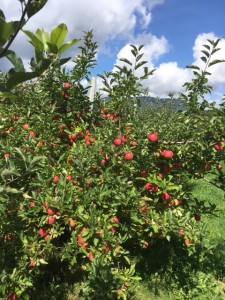 Macintosh