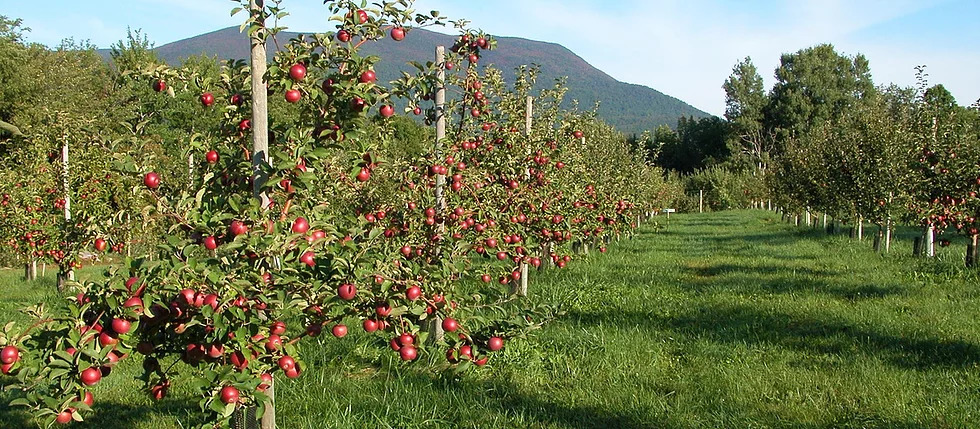 We have fourteen different varieties of apples.
Here they are grouped by when they ripen:
Early Season (early September)
Zestar, Sansa, Ginger Gold
Mid Season (later in September)
McIntosh, Gala, Cortland, Honeycrisp, Macoun, Fuji, Bondee (planted 2017 – small harvest starting 2019)
Late Season (October)
Crimson Crisp, Empire, Golden Delicious, Northern Spy
Apple Calendar
NOT RIPE YET
READY SOON
RIPE NOW
PICKED OUT
Variety
Ripens
Description
Best Uses
Zestar

usually first weekend in September


NOT RIPE YET

From the University of Minnesota which gave us Honeycrisp – introduced in 1999. Sweet, tart and juicy. It will keep covered in refrigerator for six to eight weeks.
Fresh eating, makes a great pie with a spicy taste. A new favorite for us!!
Ginger Gold

usually first weekend in September


NOT RIPE YET

Discovered in a Virginia orchard after Hurricane Camille – a survivor – resembles Golden Delicious but juicer
Fresh eating – favorite of local bakers. Use within a few weeks. Slow to brown, so good in salads
Sansa

usually first weekend in September


NOT RIPE YET

From a cross of Gala with Akane, a Japanese apple.  Gala type flavor, sweet.  Some say its pear like.
Fresh eating – kids like it's sweet taste and  small size – a good lunch box apple.
McIntosh

usually second week in September


NOT RIPE YET

The premier New England apple popular since its introduction from Canada in 1870. Freshly picked Macs are juicy, crisp and aromatic.
fresh eating, apple sauce & apple crisp. For pies, cut slices thick because they soften. Cortland will make a firmer pie.
Gala

usually second week in September


NOT RIPE YET

A solid blush strain of Gala originating from New Zealand in the 1960's. Mild, sweet flavor, crisp and firm.
Fresh eating, dries well, also bakes and stores for weeks in refrigerator. Kids go for it.
Blondee

usually second week in September – recently planted –  quantities limited


NOT RIPE YET

A new variety from Michigan. It is a yellow-skinned, Gala-type apple
Fruit is very good for fresh eating, has a smooth finish and crunchy texture. When we get more production, we will see how it works for baking.
Honeycrisp

mid September


NOT RIPE YET

Introduced by University of Minnesota in the 1990's and very popular. Crisp and juicy with a rich flavor
Best for fresh eating. Some people bake and make apple sauce with it – it tends to stay very firm.
Cortland

mid to late September


NOT RIPE YET

From New York state apple program introduced in 1898. Cross between McIntosh and Ben Davis. Sweeter than Mac, slow to brown, firm.
Premier baking apple. Excellent for salads (stays white due to slow browning). Late season Cortlands make beautiful apple sauce.
Fuji

mid to late September


NOT RIPE YET

Popular in Japan and China, but actually has American parents Ralls-Janet and Red Delicious. Firm, sweet – we grow a variety called Daybreak Fuji that ripens earlier than standard Fuji.
Fresh eating, keeps well. Supply may bed limited in some years because it tends to be biennial.
Macoun

mid to late September


NOT RIPE YET

another New York state apple, introduced in 1923. Parents are McIntosh and Jersey Black. Firm, aromatic and juicy. Can be pronounced Mac-cown (rhymes with noun or Mac-coon. My father pronounced it Mac-cown, so that is the way I say it.
Fresh eating, excellent for pies (holds shape better than McIntosh) and makes great pink apple sauce, if you leave the skin on.
Empire

mid to late September


NOT RIPE YET

another apple from N. Y. state ~ 1966. McIntosh crossed with Red Delicious. Crisp, white flesh, sweet.
Fresh eating – keeps well. Also good for baking, cider and other cooking.
Crimsoncrisp

early October


NOT RIPE YET

developed by Rutgers & Purdue – disease resistant – available ~ 1995. Must wait for it to ripen to get its great sweet tart flavor. Very firm – keeps VERY well.
wonderful for fresh eating – flavor develops more a few weeks after harvested
Golden Delicious

mid October


NOT RIPE YET

A chance seedling from West Virginia – probably from Grimes Golden. In 1914 Stark Nursery bought the tree for $5.00. Crisp and juicy.
Mild flavor, a good apple for pie or sauce as well fresh eating. Keeps well in refrigerator.
Northern Spy

October


NOT RIPE YET

Sprouted from seed near Canandaigua NY ~ 1900. Very slow to begin to bear fruit and tends to be biennial. Usually picked green and allowed to ripen in storage.
a classic pie apple – stays firm when baked. Good for baked apples as well as pies. Old timers keep it over winter in root cellars.